With 4 homes SOLD in the first 12 days of March, we are over 75% SOLD!
3 Bedroom townhomes in Kelowna's Pandosy Village! Starting from $694,000.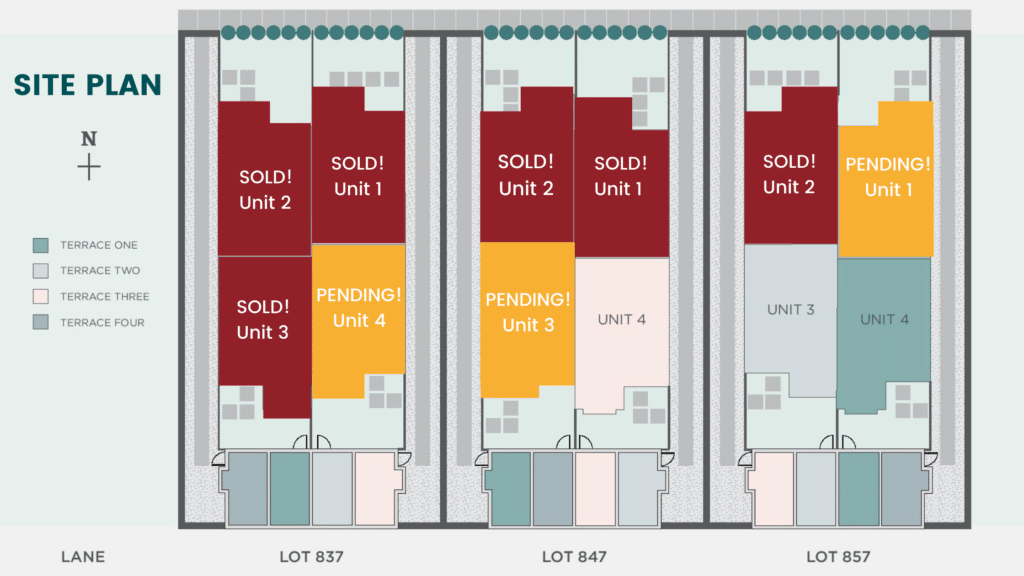 If you are interested in purchasing one of our final 3 townhomes and would like some questions answered prior to booking your private appointment, check out our list of frequently asked questions below…
FREQUENTLY ASKED QUESTIONS
Q. How Many Townhomes are in the Building?
A. The Terraces on Morrison is being built into 3 buildings of 4 townhomes! (12 homes in total.)
Q. When is the Completion of all 3 Buildings?
A: Construction is well underway with all 3 buildings projected to be complete in 2021!
– First Building (837 Morrison Ave) –
Spring 2021
– Second Building (847 Morrison Ave) – Fall/Winter 2021
– Third Building (857 Morrison Ave) – End of 2021
Q. What Deposit is Needed?
A 10% deposit is required upon presenting the offer for your new beautiful 3 bedroom townhome!
Q. What are the Strata Fees?
A: Save on monthly fees! The Strata fees at the Terraces on Morrison are $197.50/month, comparably low to other townhome developments in Kelowna. More money in your pocket for the things you love!
Q. What is Included in the Strata?
A. Don't sweat, the Strata will be responsible to coordinate the following services: Repairs and maintenance, snow removal, water, sewer, common electricity, some landscaping, garbage & recycling.
Q: Is There a Garage?
A: Yes, a single detached garage is included with 10 ft ceilings for storage! Plenty of space for all your Okanagan essentials: kayaks, paddleboards, & camping gear.
Q. Are Pets Allowed?
A: Yes, the Terraces on Morrison is pet-friendly! 2 Cat's or 2 Dog's or 1 Cat & 1 Dog! Your furry pals are going to love being so close to walking trails and countless beach access points!
Q: How are the Common Walls Constructed?
A: Homes will feature double insulated fire-rated walls with a sound transmission class rating of 57 between units. Offering homeowners extra safety and sound protection!
Q: Is There Water on the Rooftop Terrace?
A: Yes, hot and cold valves! Making your outdoor living space more functional, helping with food preparation and reduces trips in and out of the house!
Q: Is There Gas Outlets?
A: Yes, there are 2 gas outlets located on the rooftop terrace. Upgrade your space with a luxurious fire pit and get grilling with a built-in BBQ station. Perfect for Okanagan Entertaining!
Q: Do I Get to Choose my Finishes?
A: Yes, choose between two colour palettes! The White Oak Terraces represents a clean and bright space, with the Rosewood Terraces exuding a warmer, cozy feeling. Upgrades are available, talk to the Property Specialist for more info!
Q: Are the Appliances Included?
A: Yes, all homes come with a Stainless Steel KitchenAid Appliance Package Including:

– 20 cu.ft. 36-Inch Width Counter-Depth French Door Refrigerator with Interior Dispense
– 30-Inch 5-Burner Gas Convection Front Control Range
– 30″ Wall-Mount, 3-Speed Canopy Hood Fan with LED Task Lights
– 46 DBA 3-Rack Front-Pull Dishwasher with PrintShield™ Finish
Q: Is there a Warranty on the Homes?
A: Yes, rest assured your home is protected under a 2, 5 and 10-year warranty!
Q: Can These Homes be Rented?
A: Yes, for a minimum of 3 months. Some restrictions apply, inquire with our Property Specialists.
Contact our Property Specialists Today!
250-317-4393 | terracesonmorrison.com
terracesonmorrison@fortnemarketing.ca

837, 847, 857, Morrison Ave, Kelowna