You can't see our faces right now, but we're BURSTING WITH PRIDE for our Sales Manager Jamela!
She earned a prestigious & well-deserved spot in the BDO's Top Forty Under 40.
Congrats Jamela! Read all about her & then call her up for a personalized tour of the beautiful West Harbour community she is so passionate about!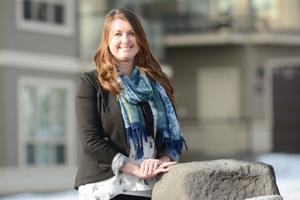 Boat in, boat out lifestyle
Jamela Van Steinburg's eyes sparkle when she starts extolling the virtues of living and working at West Harbour.
"There's nothing like it in the Okanagan," said the 32-year-old.
"It's the true boat in, boat out lifestyle."
Van Steinburg works for Kelowna-based Fortune Marketing, which has the contract to market and sell the homes and lakeside lifestyle at West Harbour, located just north of Old Ferry Road on the Westside.
Kelowna-based Troika is West Harbour's developer.
Van Steinburg isn't just the sales manager for West Harbour, she also lives there.
"It's a great community," she said.
"There are the amazing homes, of course, 225 boat slip marina, private beach, pool and hot tubs and park. And all of this is so close to downtown."
Driving, West Harbour is about 10 minutes from downtown, across the bridge and down Westside Road.
But, by water it's only two kilometers.
That means if you are a West Harbour resident with a boat docked at the on-site marine you can motor over to downtown in a few minutes.
West Harbour has even secured two boat slips at the new Downtown Marina so residents can commute, shop and dine without ever getting in the car.
Van Steinburg used to work in radio advertising sales.
She's also an avid real estate investor, buying and renting out homes.
So when one of her radio clients, Fortune Marketing, offered her a job selling homes, she jumped at the chance.
About 100 homes are built or under construction at West Harbour with another 225 to come over the next three to five years.
Prices start at $479,000 with no boat slip or $559,000 with a boat slip.
West Harbour is located on Westbank First Nation land so building lots come with a 99-year lease.
However, West Harbour is handling the lease differently.
Rather than residents paying a monthly lease payment similar to strata, West Harbour developer, Troika, has prepaid the 99-year lease.
An investment of $5,000 per household has also been put aside that matures at the end of the 99 years so the community as a whole can pay the next lease.
Van Steinburg loves her role of helping people build their dream home.
"This job isn't just selling people a house," she said.
"They pick a bar lot and then their custom home is built. It's usually a year-long process, so it's an incredible ride I'm happy to be involved in."
Van Steinburg is looking at using her real estate experience to volunteer to Habitat for Humanity.
She also supports Fortune's fundraising for the SPCA.
As well, she's working on a side project called Real Estate Rookie.
An online and direct-mail magazine will be produced mid-March featuring real estate, legal and investing experts giving advice to first-time home buyers, sellers and investors.
And then an event will be put on with the experts the public can attend.