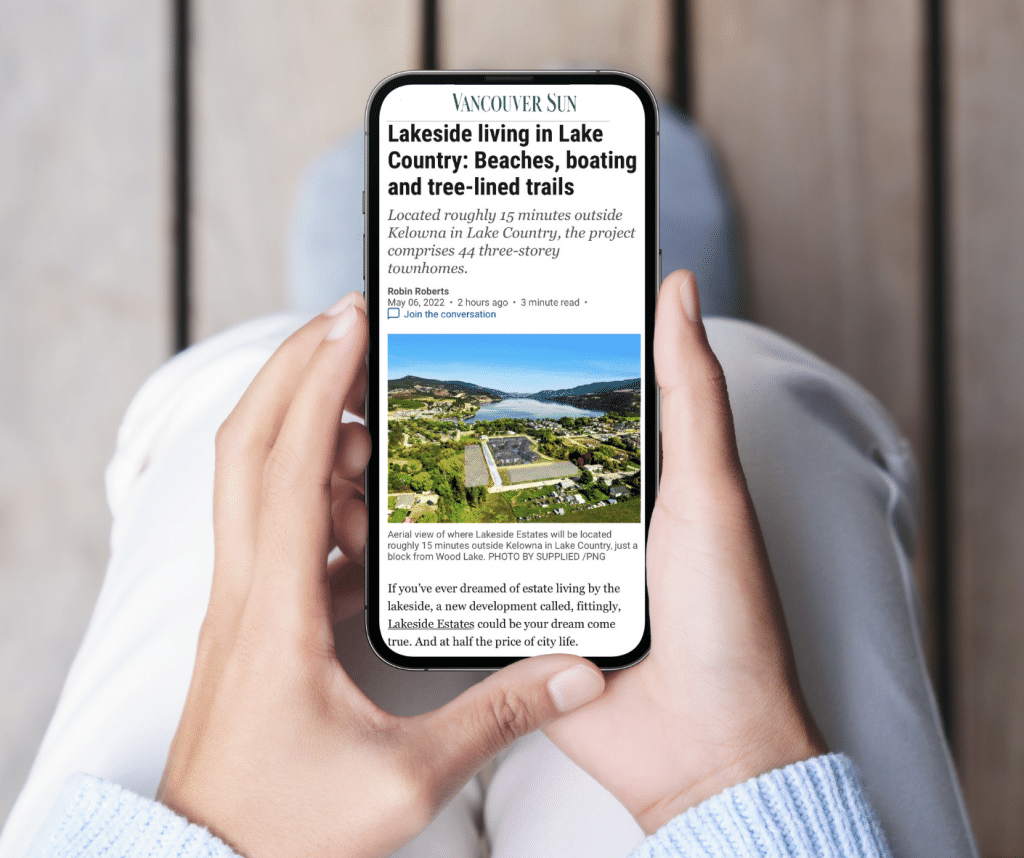 Located roughly 15 minutes outside Kelowna in Lake Country, the project comprises of 44 three-story townhomes.
If you've ever dreamed of estate living by the lakeside, a new development called, fittingly, Lakeside Estates could be your dream come true. And at half the price of the city life.
Located roughly 15 minutes outside Kelowna in Lake country, the project comprises 44 three-story townhomes. It is just a block from it namesake, Wood Lake, popular with fishing, boating, and basking on the beach.

Lakeside's developer, Belvedere LC Property Ltd., is behind several residential projects in the region, including West Kelowna's Talus Ridge, as well as townhomes in the city's Lower Mission. With Lakeside Estates, Belvedere, in partnership with BlueGreen Architecture, envisions an esthetic blend of "contemporary-traditional."
Read the full article here..
NOW BOOKING PURCHASE APPOINTMENTS!
Don't Miss Out – Secure Your Future Home at Lakeside Estates

These remarkable townhomes are in high demand.
Don't delay, book your purchase appointment today.
Presentation Centre Address:
3041 Woodsdale Road,
Lake Country, BC

778-821-0882

LakesideEstates@fortunemarketing.ca

If you have a strong interest in owning at Lakeside Estates we encourage you to contact the property specialist asap as purchase appointments are in high demand.
STARTING FROM THE HIGH $600's

Thank You For Your Interest In Lakeside Estates