Luxury boutique building 4071 Lakeshore ready this summer.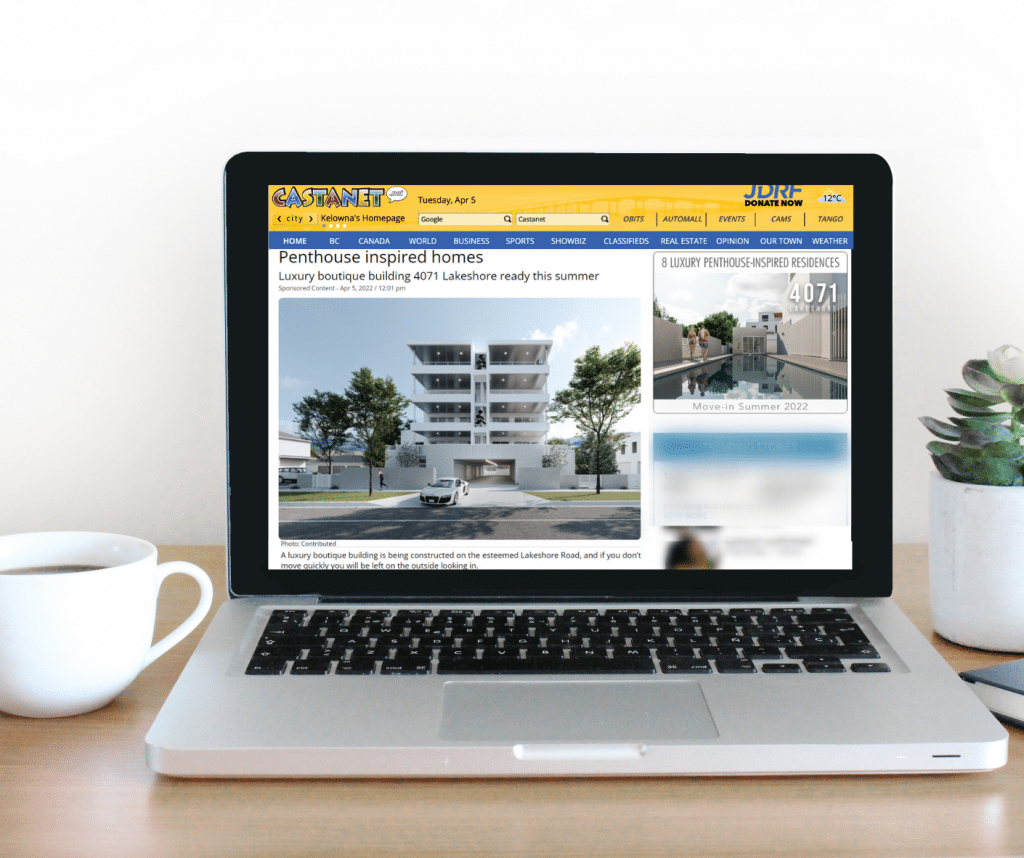 A luxury boutique building is being constructed on the esteemed Lakeshore Road, and if you don't move quickly you will be left on the outside looking in.
4071 Lakeshore is a boutique building of eight penthouse-inspired residences offering exquisite craftsmanship with concrete, wood, and steel construction by the revered Ledcor Group. Only three of eight residences are still available in 4071 Lakeshore, an opulent, four-story building that features large floor plans, private elevator access, and Okanagan Lake and Belmont Park views. "It's a luxury boutique building like no other in Kelowna," Fortune Marketing's Don Warkentin says.

Every residence comes with a private, double-car, heated garage that features a Wi-Fi integrated garage door that can be controlled from your smartphone. There will be EV charging, and an elevator will take you directly to your home in seconds.

"We have heard time and time again that Kelowna needs penthouse luxury, all on one floor, in a small building—no stairs," Warkentin says. "Our homeowners are leaving large homes for a lock and leave lifestyle, but they still want privacy and space.

4071 Lakeshore is across from Bluebird Beach on one of the Lower Mission's main thoroughfares, which means it is not far from golf courses, wineries, dining and, of course, the sand. You can go for a morning paddleboard, then bike to your favourite restaurant for lunch. The Okanagan dream is right outside your door.

There are only two homes on each floor, and the property will be protected by an electronic gate. The penthouse-style suites consist of large and well-thought-out floor plans of three bedrooms, a den and either 3.5 or 2.5 bathrooms. Two of the remaining homes have three ensuites—perfect for your guests to feel right at home. The largest home is 2,408 square feet, while the patios, which have lake and park views, range from 265 to 1,100 square feet. You will have all of the outdoor living and entertaining space you'll need to enjoy the summer magic.

The homes from Greencorp Ventures start at $2.299 million, which also proves just how extravagant and luxurious the development will be once it is complete. "There isn't really anything like it in Kelowna when you look at new developments," Warkentin says. See the full article here.
For more information about the last remaining luxury boutique homes, register now!
4071lakeshore@fortunemarketing.ca Or contact our Property Specialist at 250-317-5314