FEATURING LAKESIDE ESTATES UNIQUE, ONE-OF-A-KIND B3 & B4 FLOOR PLANS.
3 Bedrooms, a Den, 2.5 Bathrooms, Double Garages, 2 Patios & a Ground Floor Terrace.
Perfect For A Growing Family!
Enjoy the comforts and luxuries of a single-family home while maintaining the desired lock and leave lifestyle.
Featuring the largest square footage on offer, homes #39 & #40 are two of the few homes at Lakeside that front onto the serene riparian area on the southern side of the Estate.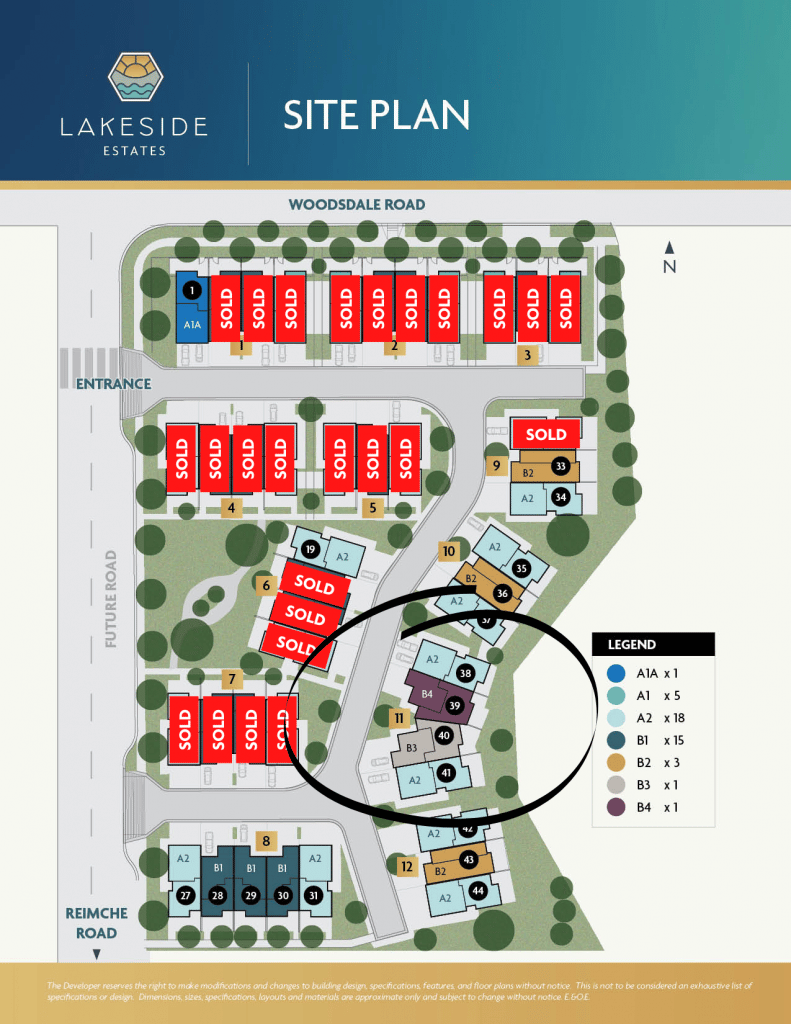 Both homes feature a den which opens onto the ground-level paved terrace, perfect for enjoying your morning coffee or summer evening BBQs while taking in the serene surroundings. The den can be converted to a home office, work-out space, guest room or games room – whatever your life demands.
The lush surroundings and increased setbacks provide a welcomed buffer to the neighbouring homes, allowing you to enjoy the comforts and luxuries of a single-family home while maintaining the desired lock and leave lifestyle.
HOME #39 – $835,900
B4 FLOOR PLAN
MLS® #10256533

This is the largest floor plan within the development with 1910 S.F of indoor living, a 456 S.F double side-by-side garage and 2 patios off the main floor living, totalling 289 S.F.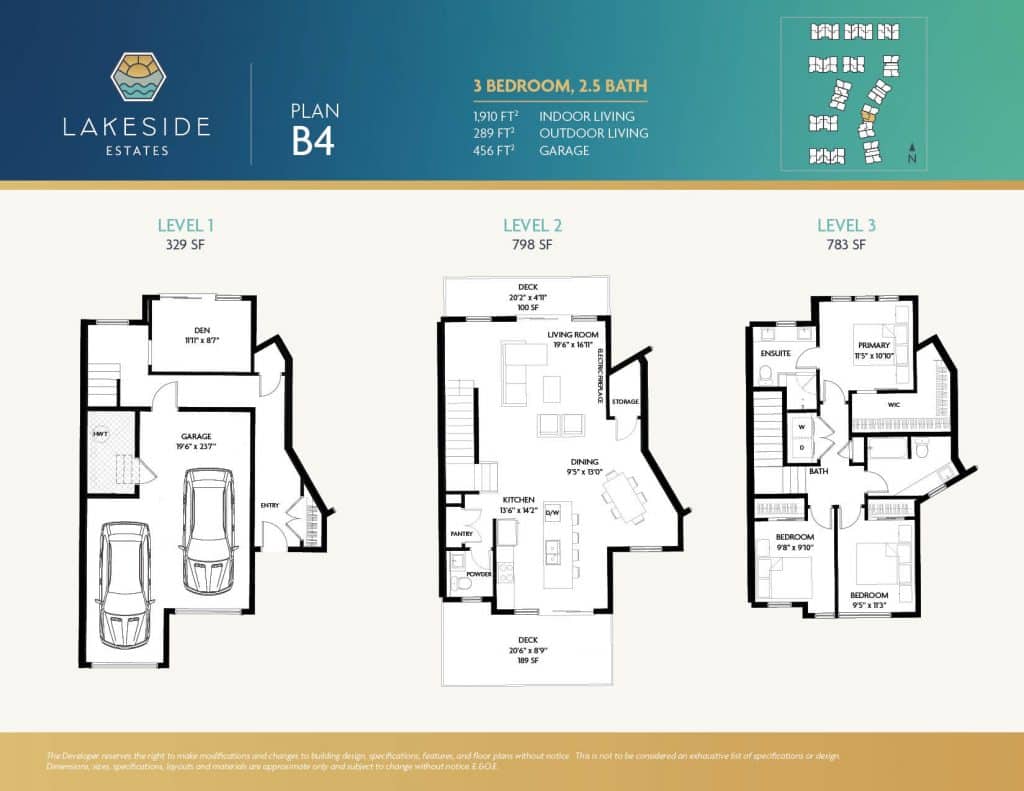 HOME #40 – $810,900
B3 FLOOR PLAN
This home boasts the largest outdoor square footage within the development with a generous 324 S.F spread across two spacious patios found on either end of the second-level living quarters. Inside, 1774 S.F of living space is maximized by the unique open plan layout and expansive windows and an additional 456 S.F found in the double side-by-side garage.
SECURE THE B3 OR B4 PLAN TODAY!
There is only 1 of each of these unique, one-of-a-kind plans
Visit us today

We're on-site from 12 – 4 pm to show you through the presentation centre, view the site, choose your finishings and help you secure your dream home!

If you are unable to visit during these hours, we are also available by appointment, in-person or virtual – anytime!
Secure your future home at Lakeside Estates with a 10% deposit!

These remarkable townhomes are in high demand.
Don't delay. Visit us today.

On-site Presentation Centre
3041 Woodsdale Rd, Lake Country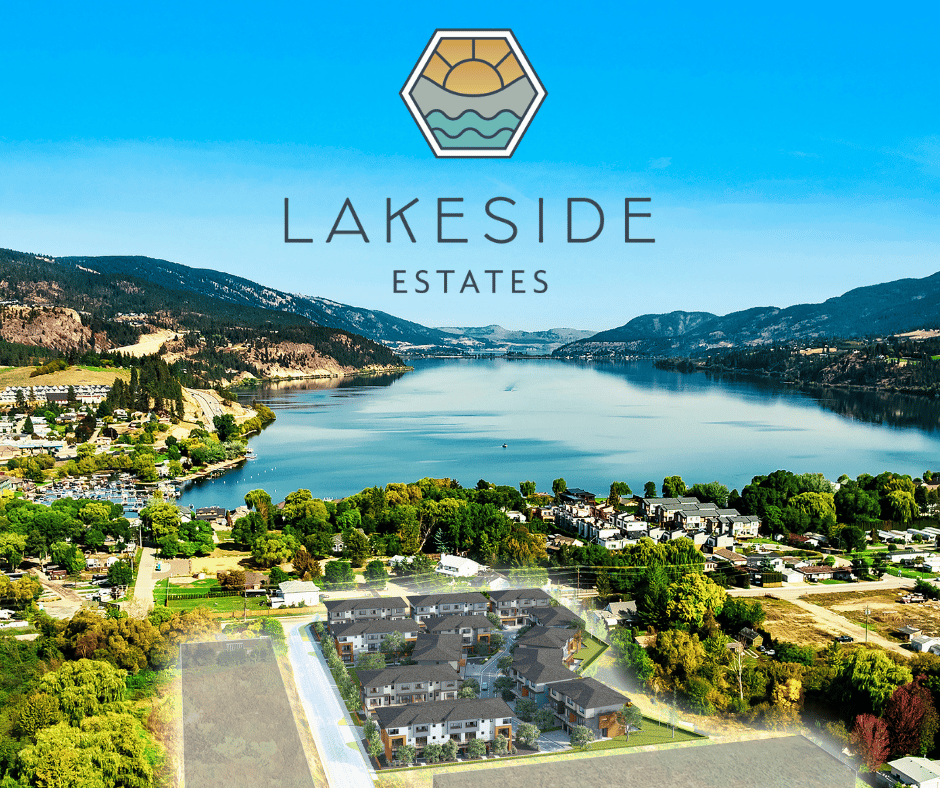 Visit our website to review the floor plans and finishings and book a virtual purchase appointment with the Lakeside Estates Property Specialist.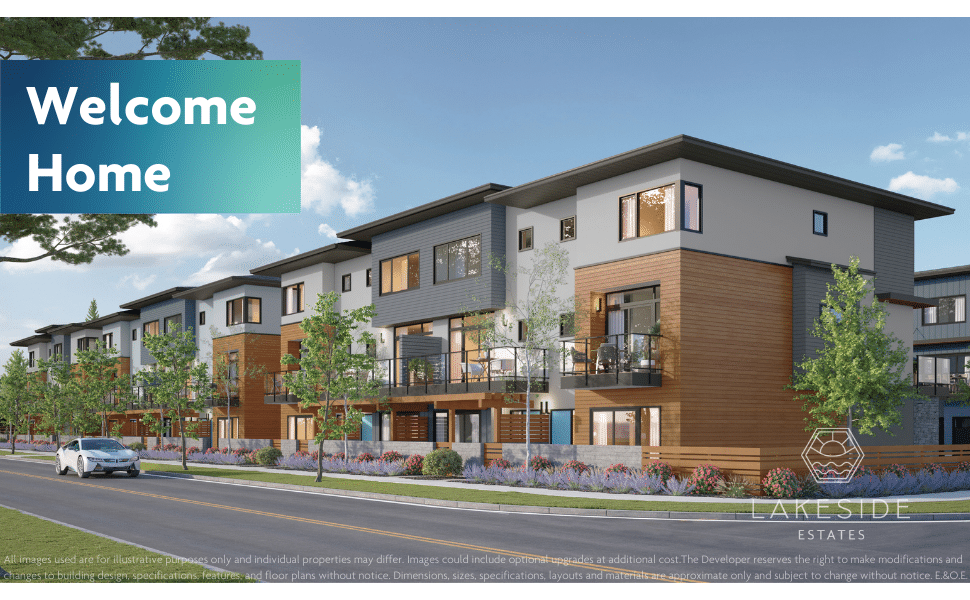 Presentation Centre Address:
3041 Woodsdale Road, Lake Country, B.C

778-821-0882
LakesideEstates@fortunemarketing.ca

If you have a strong interest in owning at Lakeside Estates we encourage you to contact the property specialist asap as purchase appointments are in high demand.