In any given year, October tends to be a busy month, as it showcases the pinnacle of the fall season with pumpkin patch festivities in full swing, pumpkin spice lattes are plentiful, the Thanksgiving Holiday is abundant with feasts and family, and then the month comes to an end with the thrilling spookiness of Halloween. However, this particular October felt exceptionally busy, with the housing market saturating in the news headlines. Here's a quick overview and October market update.
Short-Term Rentals
On October 16, the BC government announced new legislation to regulate the rapidly expanding short-term rental market. The law, when passed, will regulate British Columbians to be legally only able to rent out primary residences as short-term rentals.

Coincidentally, the City of Kelowna was already proposing changes to its short-term rental bylaw, looking to ban short-term rentals in most zones in the city. Read the Castanet article here.
October Rate Hold
With another Bank of Canada rate announcement looming and inflation slowed to 3.8 percent in September, economists predicted another rate hold. However, prior to the October 25th interest rate announcement, policymakers at the Bank of Canada expressed concerns that interest rates weren't high enough to tame inflation fully. Even so, the benchmark interest rate was held steady at 5.0 percent on October 25, marking the second consecutive rate hold in an aggressive tightening cycle from the central bank. Continue reading.
Statistics
The October summary statistics from the Association of Interior REALTORS® reported 263 sales in the Central Okanagan. This figure is down 13.2% from the same period last year. In October, the benchmark price of a single-family home in the Central Okanagan sits at $1,025,700, $739,100 for a Townhome and $517,300 for a Condo. View the full statistic summary here.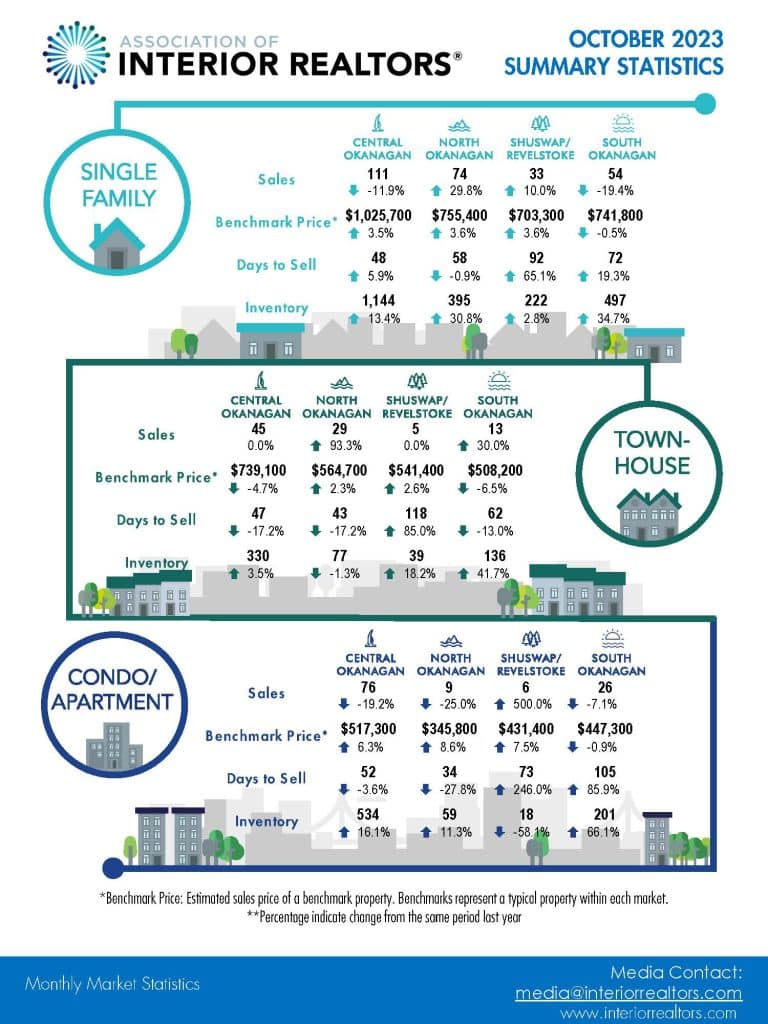 If you want further information or a detailed October market update, the Fortune Real Estate Gallery is open Monday – Friday from 9:00 am – 4:30 pm, or by appointment anytime.
305 Lawrence Avenue, Kelowna
Fortune Marketing is a Real Estate Development Sales and Marketing Agency providing strategy, branding, sales, marketing – and, most importantly, results.
Fortune Marketing Realty Inc. – Okanagan New Developments Team