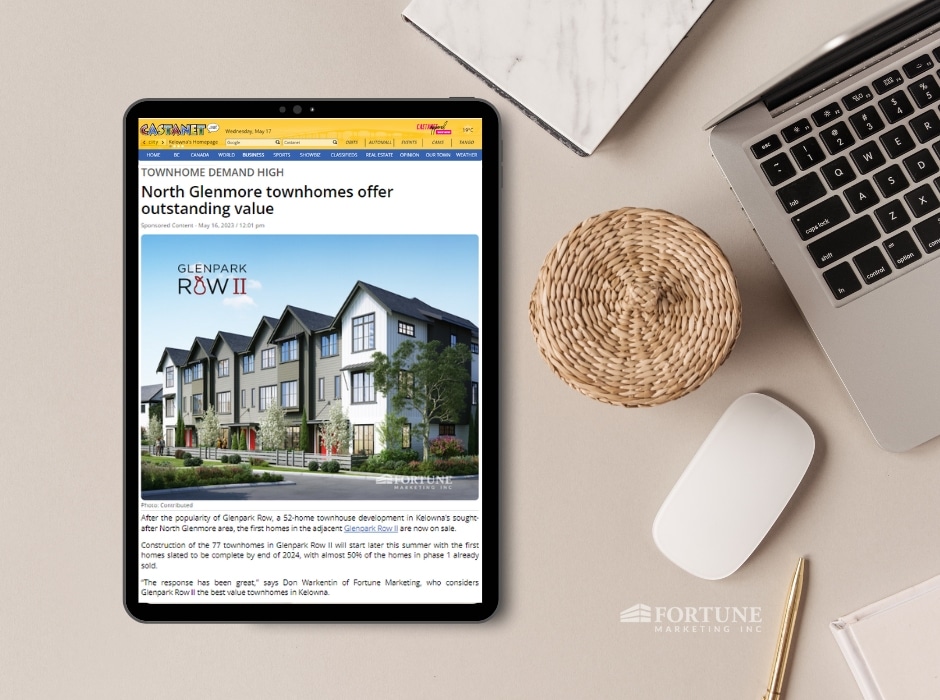 After the popularity of Glenpark Row, a 52-home townhouse development in Kelowna's sought-after North Glenmore area, the townhome demand is still high, with the first homes in the adjacent Glenpark Row II now on sale.

Construction of the 77 townhomes in Glenpark Row II will start later this summer with the first homes slated to be complete by end of 2024, with almost 50% of the homes in phase 1 already sold.

"The response has been great," says Don Warkentin of Fortune Marketing, who considers Glenpark Row II the best value townhomes in Kelowna.

"There are a ton of people moving to Kelowna but there is a shortage of new housing inventory, this makes Glenpark Row II a great option because they can secure the price today and plan for their move tomorrow."

He says in today's market, people are taking their time deciding what to buy and where to buy, they're doing their research.

"Our buyers are telling us they have decided on Glenpark Row II because it ticks all the boxes of a single-family home, without the price tag. They've said they are the best overall value townhomes in Kelowna. We have an amazing Glenmore location, a trusted and experienced developer who builds on time, and incredible value homes with upgrade-level inclusions as standard."

The homes in Glenpark Row II have just started selling, coming with attached garages, yards, and all appliances, including built-in microwaves, gas stoves and high-end refrigerators, as well as a host of standard extras not usually found in townhomes of their price point.

"It's the little things," says Warkentin, pointing to features such as gas hookups on patios for barbecues, ample pot lights throughout the homes, window coverings, windows in the stairwell to brighten the area, hot and cold water in the garages, bathrooms with tiled walk-in showers that extend all the way from the floor to the ceiling. "Every detail has been thought of."

Quartz countertops, a walk-in closet and dual sinks in the en suite all elevate the level of living even more at Glenpark Row II, built by respected veteran developer VanMar, whose other developments in Kelowna's North Glenmore area include the popular Drysdale Row and Glenpark Row.

With prices under $750,000 for a three-bedroom home—with a den that can be converted to a fourth bedroom as it has a window and built-in closet—the townhomes represent an outstanding value.

And, if the inside of the contemporary townhomes is not enough to make them remarkably attractive, the area surrounding the development is. The development is nestled amongst surrounding farmland and orchards, across the street from the city's Glenmore Recreation Park, with its sportsfield and off-leash dog park, and both Watson Road and North Glenmore elementary schools are both within walking distance. Dr. Knox Middle School is even closer.

In North Glenmore, every amenity you could hope for is at your fingertips. Under one minute by car or 5 minutes on foot you will find Glenpark Village and Brandt's Creek Crossing shopping with a Save-on-Foods, IGA, Shoppers Drug Mart, various restaurants, cafes, doctor and dentist offices, a veterinary clinic and more. All are easily accessible to you within this self-sufficient community.

"You're within a 10-minute drive to everything else, 10 minutes to UBCO and Kelowna International Airport via John Hindle drive, 10 minutes to downtown Kelowna and 10 minutes to Costco, Orchard Park Shopping Centre and other big box stores," Warkentin says.

The homes have pet-friendly gated yards and a spacious patio off the second-floor main living area. The attached garages also feature the infrastructure required for electric vehicle charging.
The homes feature three levels, with the den located on the entry-level and the open concept kitchen, living room and dining area as well as a half bath, can be found on the second floor. The third floor features three bedrooms, laundry, and a pair of bathrooms, including the en suite in the main bedroom, with a large walk-in shower.

There are six different three-bedroom-plus-den and four-bedroom floor plans to choose from and the homes range in size from 1,443 square feet to 1,715 square feet.

A downpayment of only 10% is required, allowing anyone to enter the tight Kelowna market at a relatively affordable price.

Townhome demand is still high, don't miss your opportunity to purchase in this highly sought-after development. Visit the on-site presentation centre and Display Home at 252 Valley Road, Kelowna. Open Tuesday to Saturday, noon to 4 p.m. or by appointment anytime at 778-821-3888 or glenparkrow@fortunemarketing.ca